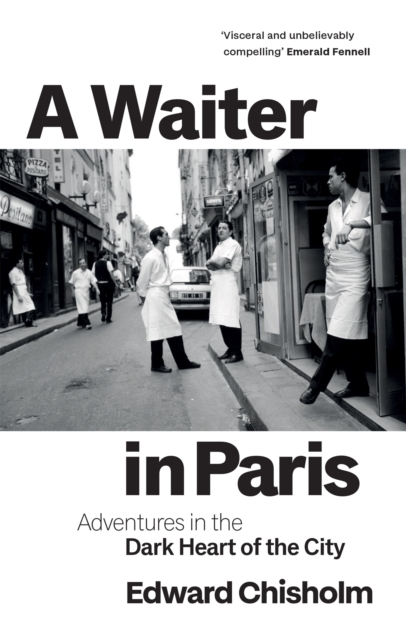 A Waiter in Paris
Adventures in the Dark Heart of the City
Staff Pick, Cooking (by Ella)
This book is a fascinating insight into another side of Paris, exposing the gritty reality of restaurant work that the author himself experienced in 1980s Paris. An evocative tale, which also conveys the immense pride these waiters take in their jobs, despite shocking working conditions, a competitive environment and very poor pay. Above all this is a portrayal of respect for all the people that keep this city buzzing, but who often go unnoticed.
***
'This astonishing book describes a cruel, feral existence and is worthy of standing on the shelf next to George Orwell's Down And Out In Paris And London (1933) as another classic about human exploitation.' - Daily Mail

'Chisholm's story is immersive and often thrilling ... He's a fine writer.' - WSJ

'Kitchen Confidential for Generation Z' - Fortune

'An English waiters riveting account of working in Paris' - Daily Mail

'Visceral and unbelievably compelling' - Emerald Fennell

'Vividly written and merciless in its detail' - Edward Stourton

'An excellent book' - Strong Words magazine

'A Dickensian tale of a young man's trial by fire in a French bistro gives rise to biting commentary on Parisian culture in Chisholm's intoxicating debut' - Publisher's Weekly

'Ah, Paris... gastronomie magnifique and... insane shit going on behind the scenes. A Waiter in Paris charts Edward Chisholm's jaw-dropping experiences while serving tables in the French capital, a demi-monde of sadistic managers, thieves, fighting for tips and drug dealers. Seems like not much has changedsince George Orwell worked the same beat.' - Evening Standard

A waiter's job is to deceive you. They want you to believe in a luxurious calm because on the other side of that door...is hell.

Edward Chisholm's spellbinding memoir of his time as a Parisian waiter is the perfect summer read. It takes you below the surface of one of the most iconic cities in the world and right into its glorious underbelly.

He inhabits a world of inhuman hours, snatched sleep and dive bars; scraping by on coffee, bread and cigarettes, often under sadistic managers, with a wage so low you're fighting your colleagues for tips. Colleagues - including thieves, narcissists, ex-Legionnaires, paperless immigrants, wannabe actors and drug dealers - who are the closest thing to family that you've got.

It's physically demanding, frequently humiliating and incredibly competitive. But it doesn't matter because you're in Paris, the centre of the universe, and there's nowhere else you'd rather be in the world.
Publisher: Octopus Publishing Group
Binding: Hardback
Publication date: 05 May 2022
Dimensions: 146 x 223 x 37 mm
ISBN: 9781800960183