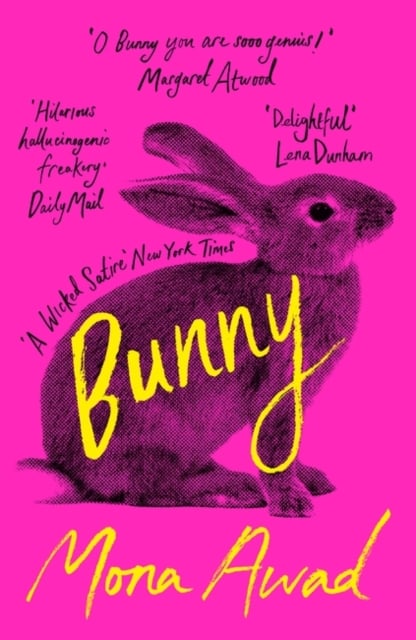 Bunny
TikTok made me buy it!
Staff Pick, Literature (by Sorcha)
Bunny is a weird, unique and macabre fever dream of a novel. Though its premise is Secret History-esque (a lonely protagonist is inducted into an exclusive group of mysterious students at a small but prestigious university), Awad takes this plotline to the extreme. Its creepy-cute aesthetics and quirky characters quickly morph into a nightmare as the protagonist falls into the Bunnies' rabbit hole and discovers the horrifying cult they have created.
THE TIKTOK SENSATION
The darkly funny, spellbinding trip of a novel that EVERYONE is talking about'No punches pulled, no hilarities dodged, no meme unmangled. O Bunny you are sooo genius!' MARGARET ATWOOD We call them Bunnies because that is what they call each other. Seriously. Bunny.
Samantha Heather Mackey is an outsider in her small, highly selective MFA program at Warren University. In fact, she is utterly repelled by the rest of her fiction writing cohort – a clique of unbearably twee rich girls who call each other 'Bunny'.But then the Bunnies issue her with an invitation and Samantha finds herself inexplicably drawn to their front door, across the threshold, and down their rabbit hole.Blending sharp satire with fairytale horror, Bunny provides a hilarious look at the dark side of female friendship from one of fiction's most original voices.
'The Secret History meets Jennifer's Body. Brilliant, sharp, weird... I loved it and I couldn't put it down.' Kristen Roupenian 
'Made me nod and cackle in terrified recognition.' Lena Dunham 
'Hilarious, hallucinogenic freakery.' Daily Mail 
'Cerebral and complusively readable.' Vanity Fair
Publisher: Bloomsbury Publishing PLC
Binding: Paperback
Publication date: 06 Feb 2020
Dimensions: 198 x 129 x 25 mm
ISBN: 9781788545440