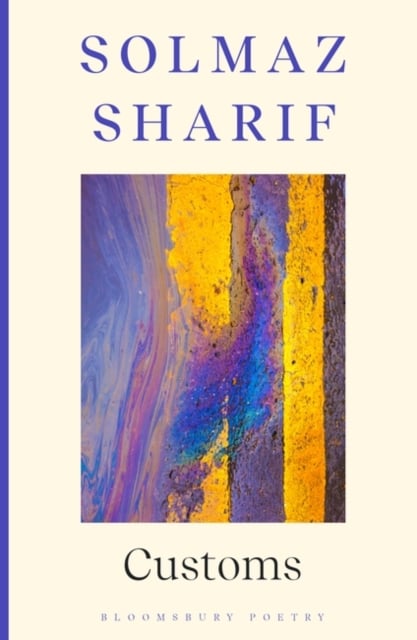 Staff Pick, Poetry (by Niamh)
Focusing on the experiences of immigrating to the US from Iran, Solmaz Sharif speaks both tenderly and profoundly about homesickness and a desire for belonging in a foreign place that never truly feels like home. Considering all they feel they have left behind and can no longer access in Iran (physically, emotionally, culturally), the writing in this collection is both thought-provoking and stylistically clever.
Longlisted for the 2023 PEN/Jean Stein Book AwardLonglisted for the 2022 Brooklyn Public Library Book PrizeA New Yorker Essential Read of 2022A Publishers Weekly Best Book of 2022An NPR Best Book of 2022A Literary Hub Best Reviewed Poetry Collection of 2022_______________'Witty and incisive… [Sharif] masterfully traverses the landscape of exile and all its complicated grief' New York Times_______________The devastating second collection by Solmaz Sharif, author of Look, a National Book Award finalistWith Customs, Solmaz Sharif offers a series of poetic refusals, weighing nuanced questions about what it means to belong to a place. In the face of hard borders these poems seek a reckoning with the structures, in society, in language itself, by which these limits act on us.Sharif examines what it means to exist in the nowhere of the arrivals terminal; to navigate a continual series of checkpoints, officers, searches, and questionings that can become a relentless challenge; a mutating shibboleth. Through the poet's adept balancing of tonal and formal elements, these poems interrogate the 'customs' of the nation-state, of the English language, of the paces these systems put us through. But this work is not enjoined to a hopeless quest. Instead, the propulsive force that informs each line, each white space, and punctuation mark, is a powerfully galvanizing and healing force.Customs reminds us of the generative possibilities of restlessness, of seeking in each poem to refresh what it is a poem can be and do.
Publisher: Bloomsbury Publishing PLC
Binding: Paperback
Publication date: 27 Apr 2023
Dimensions: 131 x 198 x 14 mm
ISBN: 9781526655295