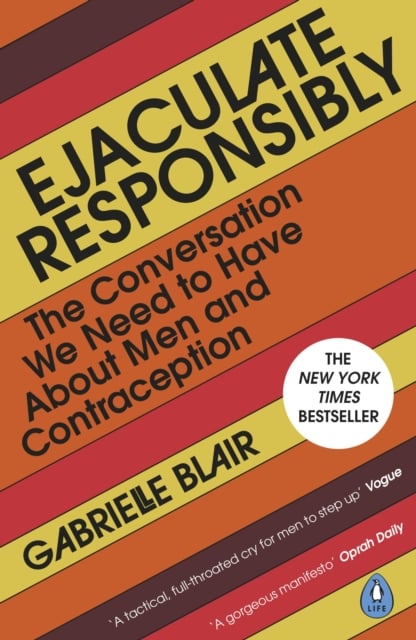 Ejaculate Responsibly
The Conversation We Need to Have About Men and Contraception
Coup de Coeur (by Celia)
What causes an unwanted pregnancy? Is it women having sex? Or might it have something to do with men and their actions? Think about this...

"We live in a world where the burden of pregnancy prevention has been put on the person who is fertile for 24 hours a month rather than the person who is fertile 24 hours a day, everyday of their life. Ovulation is involuntary, ejaculation is not."

Gabrielle Blair completely re-frames society's narrative that abortion is solely a woman's issue. She gives several clear and well-researched arguments to highlight that the whole issue has a lot more to do with men than it does women.

THE NEW YORK TIMES BESTSELLER

'A gorgeous manifesto' Oprah Daily

'A tactical, full-throated cry for men to step up' Vogue 

It is also true that... - Men are 50 times more fertile than women- Birth control is hard to access, use, and comes with numerous side effects- Vasectomies are less risky than tubal litigationsYet, it's women who are expected to do the work of pregnancy prevention. Why must women be responsible for men's bodies, as well as their own?Rather than endlessly exploring how and why we control women's bodies in the highly polarised anti-abortion and pro-choice 'debate', Ejaculate Responsibly makes a witty and unflinching case for why men must be held accountable for their reproductive choices.


Publisher: Penguin Books Ltd
Binding: Paperback
Publication date: 11 May 2023
Dimensions: 129 x 198 x 13 mm
ISBN: 9780241650592