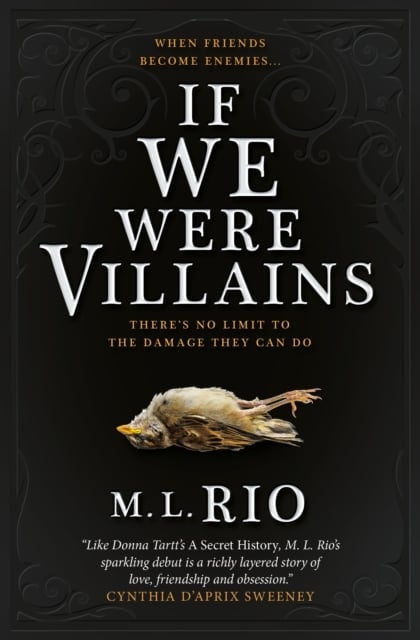 If We Were Villains: The Sensational TikTok Book Club pick
Staff Pick, Mystery/Crime (by Sorcha)
Most well known as one of the pillars of Dark Academia alongside Donna Tartt's The Secret History, If We Were Villains is a murder-mystery set in a prestigious performing arts University. It is a tale of obsession, mania and love - broken, tormented love that drives the seven core characters and pushes them past limits they never even knew they could reach. Perfect for fans of atmospheric and eerie stories, this novel reads like a Shakespearean tragedy and was treated as such by the author - the playwright's words are so ingrained in the characters that they quote his verses at each other and have taken on the characteristics of his archetypes - the protagonist, the fool, the best friend, the star-crossed lovers.
A vivid and immersive story of obsession perfect for fans of dark academia and Donna Tartt's The Secret HistoryOliver Marks has just served ten years for the murder of one of his closest friends - a murder he may or may not have committed. On the day he's released, he's greeted by the detective who put him in prison. Detective Colborne is retiring, but before he does, he wants to know what really happened ten years ago.

As a young actor studying Shakespeare at an elite arts conservatory, Oliver noticed that his talented classmates seem to play the same roles onstage and off - villain, hero, tyrant, temptress - though Oliver felt doomed to always be a secondary character in someone else's story. But when the teachers change up the casting, a good-natured rivalry turns ugly, and the plays spill dangerously over into life. When tragedy strikes, one of the seven friends is found dead.

The rest face their greatest acting challenge yet: convincing the police, and themselves, that they are blameless.

Publisher: Titan Books Ltd
Binding: Paperback
Publication date: 13 Jun 2017
Dimensions: 131 x 197 x 30 mm
ISBN: 9781785656477