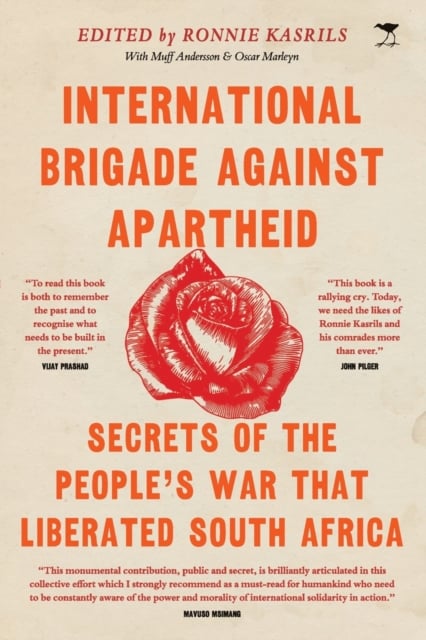 International Brigade Against Apartheid
Secrets of the War that Liberated South Africa
This book reads like a war-time thriller.
We hear for the first time from internationalists who secretly worked for the ANC's armed wing, Umkhonto We Sizwe (MK), in the struggle to liberate South Africa from apartheid rule. They acted as couriers, provided safe houses in the neighbouring states and within South Africa, helped infiltrate combatants across borders, and smuggled tonnes of weapons into the country in the most creative of ways.
Driven by a spirit of international solidarity, they were prepared to take huge risks and face danger which dogged them at every turn. At least three were captured and served long terms of imprisonment, while others were arrested and, following international pressure, deported.
They reveal what motivated them as volunteers, not mercenaries, who gained nothing for their endeavours save for the self-esteem in serving a just cause.
Against such clandestine involvement, the book includes contributions from key role players in the international Anti-Apartheid Movement (AAM) and its public mobilisation to isolate the apartheid regime. These include worldwide campaigns like Stop the Sports Tours, boycotting South African products, and black American solidarity.
The Cuban, East German and Russian contributions outline those countries' support for the ANC and MK. The public, global AAM campaigns provide the dimension from which internationalists who secretly served MK emerged.
This is an invaluable historic resource, explaining in highly readable style the significance of international solidarity for today's youth in challenging times.
ABOUT THE AUTHOR
Ronnie Kasrils is author of the best-selling memoir Armed & Dangerous, which has been translated into German, Russian and Spanish, A Simple Man, the Alan Paton Award-winning The Unlikely Secret Agent, and Catching Tadpoles which has been translated into French. A commander in Umkhonto weSizwe from its inception in 1961 until 1990, he served in government from 1994 to his resignation as minister for intelligence in 2008. He describes himself as a social activist and lives in Johannesburg.
Publisher: Jacana Media (Pty) Ltd
Binding: Paperback
Publication date: 09 Dec 2021
Dimensions: 156 x 234 x 31 mm
ISBN: 9781431432028