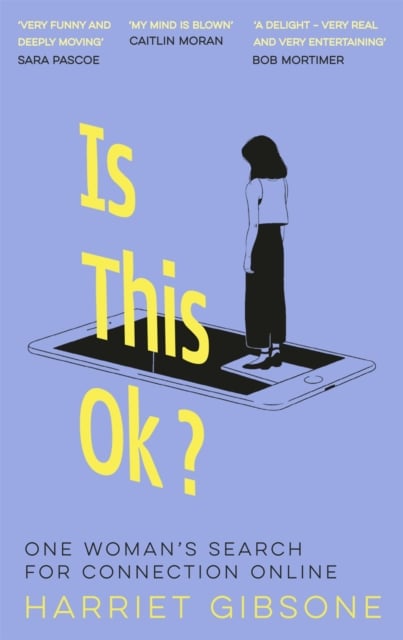 Is This OK?
One Woman's Search For Connection Online
Staff Pick, Essays (by Olivia)
I savoured every moment I spent with this book. An incredible coming of age memoir that discusses growing up amidst the birth of social media and the ever-changing culture of the 2000s and 2010s. Honest, uplifting, hilarious and at times heartbreaking, Harriet Gibsone perfectly captures the neuroses of finding your feet in your teenage years, navigating the trials of your twenties, and stumbling into early adulthood all set against the backdrop of obsessive internet stalking. Gibsone recounts her life in such a (worryingly!) relatable way - to aspiring to be the perfect 'cool girl' à la Alexa Chung, to embarrassing drunken festival antics. Perfect for fans of Dolly Alderton and Sheena Patel - it turns out that 'Is this Ok?' is more than ok, it is amazing!
<p><b>'Persistently funny, ill-advisedly honest and deadly accurate' – Caitlin Moran<br><br>'This book is a delight - very real and very entertaining' – Bob Mortimer</b><br><br><b>Music journalist, self-professed creep and former winner of the coveted 'Fittest Girl in Year 11' award, Harriet Gibsone lives in fear of her internet searches being leaked. </b><br><br>Harriet spent much of her young life feeding neuroses and insecurities with obsessive internet searching (including compulsive googling of exes, prospective partners, and their exes), and indulging in whirlwind 'parasocial relationships' (translation: one-sided affairs with celebrities she has never met).<br><br>Suddenly, with a diagnosis of early menopause in her late twenties, her relationship with the internet takes a darker turn, as her online addictions are thrown into sharp relief by the corporeal realities of illness and motherhood.<br><br><b>An outrageously funny, raw and painfully honest account of trying to find connection in the age of the internet, <i>Is This Ok?</i> is the launch of an exciting new comic voice.</b><br><br><b>'Very funny and deeply moving' – Sara Pascoe</b><br><br><b>'Hilarious and brutal! I could not put it down' – Lou Sanders</b></p>
Publisher: Pan Macmillan
Binding: Hardback
Publication date: 25 May 2023
Dimensions: 144 x 225 x 30 mm
ISBN: 9781035000999