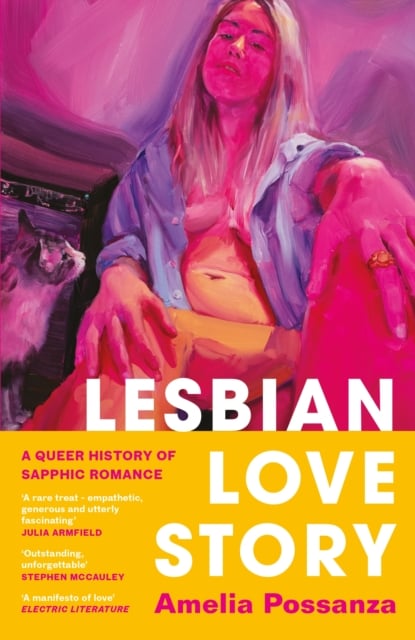 Lesbian Love Story
A Queer History of Sapphic Romance
'A RARE TREAT ... UTTERLY FASCINATING' Julia Armfield | 'GORGEOUSLY, QUINTESESSENTIALLY LESBIAN' Lily Lindon | 'THOROUGHLY ENJOYABLE' Paula Akpan | 'PASSIONATE' Kate Charlesworth | 'A RADICAL ACT OF QUEER LOVE' Kestral Gaian | 'AN INCREDIBLE, AFFIRMING BOOK' Lois Shearing

A TIME MAGAZINE MOST ANTICIPATED BOOK OF 2023 * A BUZZFEED MOST ANTICIPATED LGBTQ+ BOOK OF 2023 * A ZIBBY MAG MOST ANTICIPATED

Lesbian Love Story is a genre-defying history of sapphic romance like no other. On her quest to discovering lesbian role models from the past, Amelia Possanza uncovers seven incredible love stories in the archives. Expertly blending her subjects' own words with richly imagined and vigorously researched moments from recorded archives and other fragments, Possanza weaves together a vivid narrative around the construction of lesbianism. She takes us with her as she uncovers each lesbian's story, yearning and longing alongside them and growing into her own queerness.

This is a celebration of women who love women - sapphics - and a paean to those who have long existed outside of traditional definitions of sexuality and gender, defying the confines of heteronormativity. Each of the lesbians in this collection moved through the world in their own way and helped the world. Their stories illuminate a forgotten and demonised history and show us all a new way to understand what love means when there is nothing material to be gained.
Publisher: Vintage Publishing
Binding: Hardback
Publication date: 22 Jun 2023
Dimensions: 241 x 163 x 31 mm
ISBN: 9781529910872