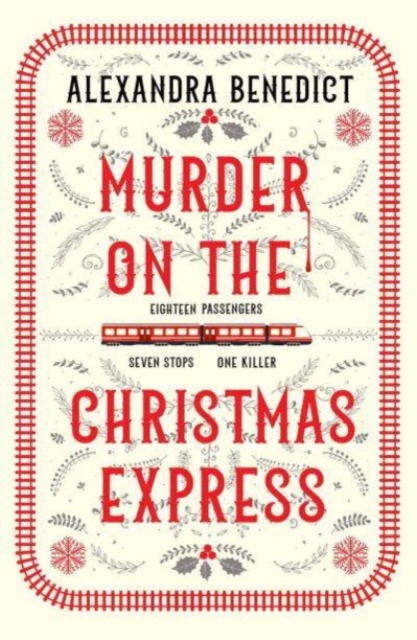 Murder On The Christmas Express
All aboard for the puzzling Christmas mystery of the year
Pre-order The Christmas Jigsaw Murders, the brand new Alexandra Benedict novel, now.

CAN YOU SOLVE THE CASE? 

'Whatever you unwrap for Christmas, you had better hope it's this book. This is 21st-century cosy Christmas crime that doesn't shy away from the darkness. Eighteen passengers, seven stops, one killer Christmas read' JANICE HALLETT
'The perfect book to read on a train . . . A thrilling journey from start to finish. Highly recommended' ELLY GRIFFITHS
'It's wonderful! A page-turning homage to the Golden Age, with a dash of Poirot and a dark, modern heart' S J BENNETT
  
Eighteen passengers. Seven stops. One killer.

In the early hours of Christmas Eve, the sleeper train to the Highlands is derailed, along with the festive plans of its travellers. With the train stuck in snow in the middle of nowhere, a killer stalks its carriages, picking off passengers one by one. Those who sleep on the sleeper train may never wake again.

Can former Met detective Roz Parker find the killer before they kill again?

All aboard for . . . Murder on the Christmas Express.
Publisher: Simon & Schuster Ltd
Binding: Paperback
Publication date: 28 Sept 2023
Dimensions: 129 x 198 x 25 mm
ISBN: 9781398519855