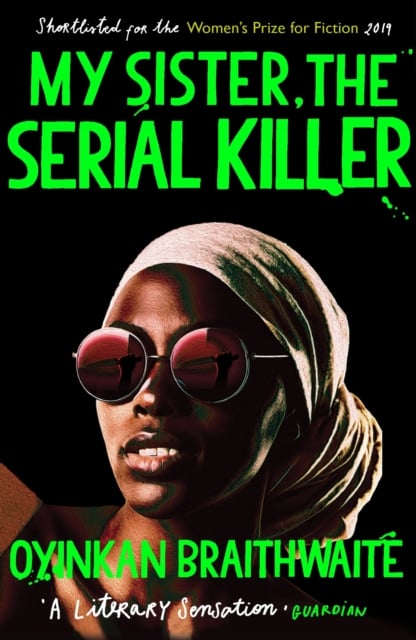 My Sister, the Serial Killer
The Sunday Times Bestseller
This novella packs a punch - it is not so much a psychological thriller or murder-mystery, despite its title, but rather an exploration of familial loyalty and duty. Nurse Korede helps her trigger-happy sister Ayoola clean up the mess when Ayoola inevitably murders her boyfriends - that is, until Ayoola catches the eye of the doctor Korede has been in love with for years. Razor sharp, with a dark and bleak sense of humour and a cast of well-developed characters, My Sister, the Serial Killer is at once a satire, a story about love -romantic and familial- and a commentary on Nigeria's law and order system.
Sunday Times bestseller and The Times #1 bestseller

Longlisted for the Booker Prize 2019
Shortlisted for the Women's Prize for Fiction 2019
Winner of the 2019 LA Times Award for Best Crime Thriller
Capital Crime Debut Author of the Year 2019
__________

'A literary sensation'
Guardian

'A bombshell of a book... Sharp, explosive, hilarious'
New York Times

'Glittering and funny... A stiletto slipped between the ribs and through the left ventricle of the heart' Financial Times
__________

When Korede's dinner is interrupted one night by a distress call from her sister, Ayoola, she knows what's expected of her: bleach, rubber gloves, nerves of steel and a strong stomach. This'll be the third boyfriend Ayoola's dispatched in, quote, self-defence and the third mess that her lethal little sibling has left Korede to clear away. She should probably go to the police for the good of the menfolk of Nigeria, but she loves her sister and, as they say, family always comes first. Until, that is, Ayoola starts dating the doctor where Korede works as a nurse. Korede's long been in love with him, and isn't prepared to see him wind up with a knife in his back: but to save one would mean sacrificing the other...
Publisher: Atlantic Books
Binding: Paperback
Publication date: 26 Sept 2019
Dimensions: 129 x 197 x 19 mm
ISBN: 9781786495983