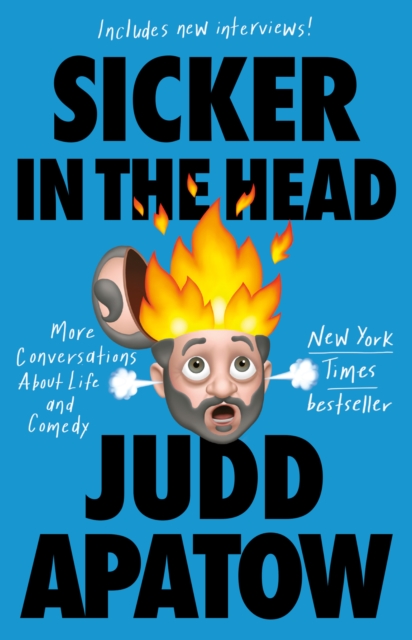 NEW YORK TIMES BESTSELLER • An all-new collection of honest, hilarious, and enlightening conversations with some of the most exciting names in comedy—from lifelong comedy nerd Judd Apatow.

"When I need to read an interview with a comedian while in the bathroom, I always turn to Judd Apatow for deeply personal insights into the comedic mind. Place one on your toilet today."—Amy Schumer

ONE OF THE BEST BOOKS OF THE YEAR: Vulture

No one knows comedy like Judd Apatow. From interviewing the biggest comics of the day for his high school radio show to performing stand-up in L.A. dive bars with his roommate Adam Sandler, to writing and directing Knocked Up and producing Freaks and Geeks, Apatow has always lived, breathed, and dreamed comedy.

In this all-new collection of interviews, the follow-up to the New York Times bestselling Sick in the Head, Apatow sits down with comedy legends such as David Letterman, Whoopi Goldberg, and Will Ferrell, as well as the writers and performers who are pushing comedy to the limits, and defining a new era of laughter: John Mulaney, Hannah Gadsby, Bowen Yang, Amber Ruffin, Pete Davidson, and others. In intimate and hilariously honest conversations, they discuss what got them into comedy, and what—despite personal and national traumas—keeps them going.

Together, they talk about staying up too late to watch late-night comedy, what kind of nerds they were high school, and the right amount of delusional self-confidence one needs to "make it" in the industry. Like eavesdropping on lifelong friends, these pages expose the existential questions that plague even the funniest and most talented among us: Why make people laugh while the world is in crisis? What ugly, uncomfortable truths about our society—and ourselves—can comedy reveal? Along the way, these comics reminisce about those who helped them on their journey—from early success through failure and rejection, and back again—even as they look ahead to the future of comedy and Hollywood in a hyper-connected, overstimulated world.

With his trademark insight, curiosity, and irrepressible sense of humor, Apatow explores the nature of creativity, professional ambition, and vulnerability in an ever-evolving cultural landscape, and how our favorite comics are able to keep us laughing along the way.
Publisher: Random House USA Inc
Binding: Paperback
Publication date: 18 Apr 2023
Dimensions: 131 x 203 x 32 mm
ISBN: 9780525509424