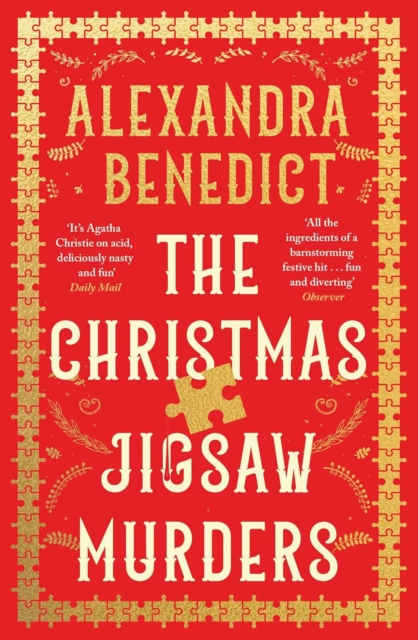 The Christmas Jigsaw Murders
The new deliciously dark Christmas cracker from the bestselling author of Murder on the Christmas Express
***GIVE THE GIFT OF CHRISTMAS EARLY. PRE-ORDER THE NEXT DELICIOUSLY DARK CHRISTMAS MYSTERY FOR FANS OF CLEVER, PUZZLING CRIME. THE PERFECT STOCKING FILLER***
THIS CHRISTMAS, A KILLER TAKES FAMILY GAMES TO A MURDEROUS NEW LEVEL.

On 1st of December, renowned puzzle setter, loner and Christmas sceptic Edie O'Sullivan finds a hand-delivered present on her doorstep. Unwrapping it, she finds a jigsaw box and, inside, six jigsaw pieces. When fitted together, the pieces show part of a crime scene – blood-spattered black and white tiles and part of an outlined body. Included in the parcel is a message: 'Four, maybe more, people will be dead by midnight on Christmas Eve, unless you can put all the pieces together and stop me.' It's signed, Rest In Pieces.
Edie contacts her nephew, DI Sean Brand-O'Sullivan, and together they work to solve the clues. But when a man is found near death with a jigsaw piece in his hand, Sean fears that Edie might be in danger and shuts her out of the investigation. As the body count rises, however, Edie knows that only she has the knowledge to put together the killer's murderous puzzle.
Only by fitting all the pieces together will Edie be able to stop a killer – and finally lay her past to rest.

Praise for Alexandra Benedict's Christmas mysteries:
'The perfect gift for quizzers and mystery addicts . . .' Val McDermid
'Whatever you unwrap for Christmas, you had better hope it's this book This is 21st-century cosy Christmas crime that doesn't shy away from the darkness' Janice Hallett
'A thrilling journey from start to finish. Highly recommended' Elly Griffiths
'It's wonderful! A page-turning homage to the Golden Age, with a dash of Poirot and a dark, modern heart' S J Bennett
Publisher: Simon & Schuster Ltd
Binding: Hardback
Publication date: 09 Nov 2023
Dimensions: 234 x 153 x 25 mm
ISBN: 9781398525375