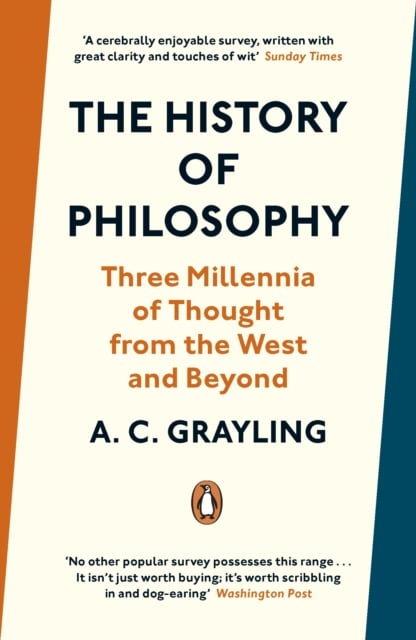 The History of Philosophy
AUTHORITATIVE AND ACCESSIBLE, THIS LANDMARK WORK IS THE FIRST SINGLE-VOLUME HISTORY OF PHILOSOPHY SHARED FOR DECADES

'A cerebrally enjoyable survey, written with great clarity and touches of wit' Sunday Times

The story of philosophy is an epic tale: an exploration of the ideas, views and teachings of some of the most creative minds known to humanity. But there has been no comprehensive history of this great intellectual journey since 1945.

Intelligible for students and eye-opening for philosophy readers, A. C. Grayling covers with characteristic clarity and elegance subjects like epistemology, metaphysics, ethics, logic, and the philosophy of mind, as well as the history of debates in these areas, through the ideas of celebrated philosophers as well as less well-known influential thinkers.

The History of Philosophy takes the reader on a journey from the age of the Buddha, Confucius and Socrates. Through Christianity's dominance of the European mind to the Renaissance and Enlightenment. On to Mill, Nietzsche, Sartre, then the philosophical traditions of India, China and the Persian-Arabic world.

And finally, into philosophy today.
Publisher: Penguin Books Ltd
Binding: Paperback
Publication date: 27 Aug 2020
Dimensions: 130 x 197 x 50 mm
ISBN: 9780241304549