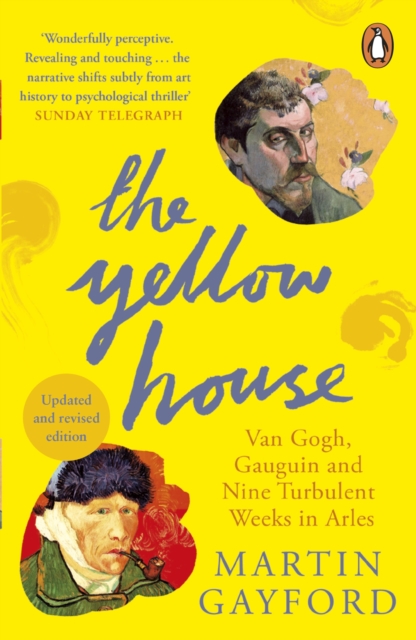 The Yellow House
Van Gogh, Gauguin, and Nine Turbulent Weeks in Arles
The Yellow House: Van Gogh, Gauguin and Nine Turbulent Weeks in Arles is art critic Martin Gayford's account of the tumultuous nine weeks in which the famous nineteenth century artists Vincent van Gogh and Paul Gauguin shared a house in the small French town of Arles.

Two artistic giants. One small house.

From October to December 1888 a pair of at the time largely unknown artists lived under one roof in the French provincial town of Arles. Paul Gauguin and Vincent Van Gogh ate, drank, talked, argued, slept and painted in one of the most intense and astonishing creative outpourings in history. Yet as the weeks passed Van Gogh buckles under the strain, fought with his companion and committed an act of violence on himself that prompted Gauguin to flee without saying goodbye to his friend.

The Yellow House is an intimate portrait of their time together as well as a subtle exploration of a fragile friendship, art, madness, genius behind a shocking act of self-mutilation that the world has sought to explain ever since.

'Gayford's fascinating depiction of the Odd Couple of art history is both moving and riveting' Daily Mail

'Masterly...a wonderfully alert and moving portrait' Mail on Sunday

'Profoundly absorbing. Gayford has reconstructed these tumultuous weeks...the reader lives them day by day, almost minute by minute. Delightful, utterly fascinating' Independent on Sunday

Martin Gayford is a celebrated art critic and journalist who has written for the Spectator and the Sunday Telegraph and is the current Chief European Art Critic for Bloomberg. In his other book, Constable in Love: Love, Landscape, Money and the Making of a Great Painter, Gayford tells the true story of Romantic painter John Constable's life and loves.
Publisher: Penguin Books Ltd
Binding: Paperback
Publication date: 29 Mar 2007
Dimensions: 199 x 129 x 25 mm
ISBN: 9780141016733